BOZEMAN – The biggest issue for those who have travel plans across SW Montana will areas of blowing snow and reduced visibility.
Surface winds are increasing ahead of the next weather maker and for wind prone areas look for blowing snow tonight into Tuesday. I-15 Monida pass was closed from Sunday afternoon into Monday afternoon due to considerable blowing snow and huge drifts over I-15 between Spencer, ID and Monida pass. As of 1 pm Monday the pass is open, however, it could close again as gusty winds will continue to produce blowing and drifting snow in this region.
Livingston area is also reporting increasing surface winds on I-90 Monday morning into Monday afternoon. At times considerable blowing snow did impact travel in the Livingston area Monday morning.
As the next pacific storm rolls in off the Jet Stream look for increasing wind Monday night into Tuesday morning. Warming temperatures are likely and there is a chance for off and on snow.
Greatest travel impacts will be along the MT/ID state line.
There are numerous Winter Storm WARNINGS, Winter Weather Advisories and Winter Storm Watches up across the Pacific NW, Idaho and far Western Montana tonight through Wednesday. Difficult to hazardous to dangerous travel is likely across the region.
SW Montana will see periods of snow with accumulations most likely west of the divide and along the MT/ID state line.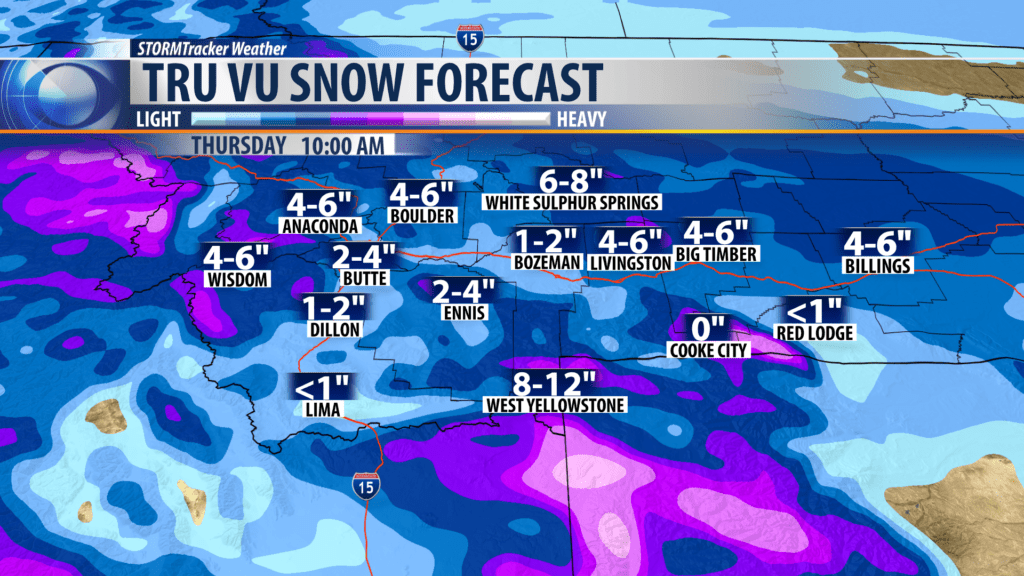 ICE JAM FLOODING
Around 7 days of Arctic air and below zero temperatures this time of year creates ice jams on area rivers and ice jam flooding.
The Jefferson River from Twin Bridges to North of Silver Star is under a FLOOD WATCH until further notice.
An ice jam has developed North of Silver Star and is backing up water as far South as Hells Canyon Road.
River levels are at or above minor flood stage Monday afternoon. Those who live along the Jefferson River North of Twin Bridges should be prepared for possible flooding.
City by City Forecast:
BOZEMAN: LOW: 13°; HIGH TUESDAY: 29°. Mostly cloudy Monday night with scattered snow. SW winds to 15 mph and localized gusts to 30 mph could produce areas of blowing snow. Tuesday will be a little warmer but stronger surface winds, SW 10 to 20 with gusts 40 mph and areas of blowing snow and drifting snow will impact travel.
BUTTE: LOW: 9°; HIGH TUESDAY: 29°. Scattered snow is likely for Butte Monday night with 1″ – 3″ possible and SW winds 10 to 20 mph producing areas of blowing snow. Tuesday not as cold with scattered snow at times but stronger surface winds SW 15 to 25 mph.
DILLON: LOW: 13°; HIGH TUESDAY: 31°. Mostly cloudy with a slight chance for snow Monday night and SW winds 10 to 20 mph producing areas of blowing snow. Tuesday will be a little warmer with increasing SW winds 15 to 25 mph and peak gusts to 40 mph. Areas of blowing and drifting will impact travel.
WEST YELLOWSTONE: LOW: 2°; HIGH TUESDAY: 23°. Snow is likely for West Yellowstone Monday night into Tuesday with moderate accumulations possible 3″ – 6″. Gusty winds at times out of the SW 10 to 20 mph and gusts over 30 mph are possible which will bring areas of blowing and drifting snow and will impact travel especially heading into Island Park, ID.