BOZEMAN – The last snow storm to impact Bozeman was back on December 1st so this roughly 10 day stretch of dry weather is coming to an end starting Monday evening.
Several pacific storms will pass through the Pacific NW and Northern Rockies for the first half of the new work week. The first storm looks to be weaker with a quick shot of snow Monday evening into early Tuesday morning. Mountain passes could see 1″ – 3″ of snow and minor travel impacts.
Second storm system will have a higher probability of measurable snow at all levels. Early estimates (likely to change) are for 1″ – 4″ for most not all valleys and 2″-4″ for most mountain passes. Greatest impacts will be along the MT/ID state line mountain passes.
This second system will have a stronger cold front so look for increasing surface winds in wind prone areas Tuesday into Wednesday. Livingston for example could see wind gusts over 50 mph at times.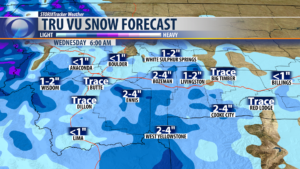 City by City Forecast:
BOZEMAN: LOW: 11°; HIGH MONDAY: 35°. Mostly clear and cold by Monday morning. Watch for increasing clouds and winds by Monday afternoon and scattered snow is possible after 5 pm Monday. Minor impacts on Monday evenings commute. Another shot of snow will arrive Tuesday evening into Wednesday morning and early estimates of 2″ – 4″ of snow is possible for Bozeman and likely to impact your Wednesday morning commute.
BUTTE: LOW: 11°; HIGH MONDAY: 33°. A few isolated storms could fire up by the evening hours. A few storms may contain small hail and gusty winds. Any leftover activity will clear the area by midnight. A few more showers will be in the area tomorrow which will keep temperatures in the 60s. Chance of Precipitation: 40%.
DILLON: LOW: 8°; HIGH MONDAY: 33°. Clear and cold overnight with increasing clouds Monday afternoon. A quick shot of snow is possible Monday afternoon and early evening.
WEST YELLOWSTONE: LOW: -1°; HIGH MONDAY: 30°. Clear and cold again tonight and falling down to near zero or slightly below zero. Increasing clouds and wind will produce slightly warmer temperatures Monday afternoon into Tuesday. Snow is possible Monday evening with around 1″ – 2″ possible by Tuesday morning. There is a good chance for 2″ – 4″ of additional snow by Wednesday morning.