MISSOULA – We are learning more information about a fatal accident near Superior that has backed up traffic for hours on Interstate 90.
Two men died, a third man was flown to Kalispell Regional Medical Center, and a firefighter was seriously injured after several semi trucks collided shortly after 5 a.m. near the Tarkio interchange.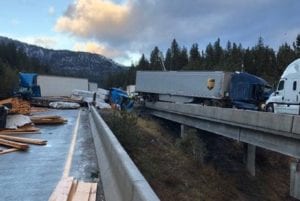 Montana Highway Patrol Trooper Terry Rosenbaum tells MTN News that all five semis involved in the crash were traveling eastbound on I-90.
He said the first semi was hauling a flatbed with lumber when the driver lost control, went broadside, spilling lumber and completely blocking the eastbound lanes of I-90 right before the bridge deck.
The driver and passenger were not injured.
But two minutes later, a second truck saw the first semi crash and tried to avoid it by veering the truck left. The second truck went through the median, jumped the guardrail, and landed completely across the westbound lanes of I-90.
Witnesses told MHP that the driver got out of the truck, thought he was going to get hit by westbound traffic, and jumped over the bridge guardrail.
Trooper Rosenbaum said the driver must have been unaware or unable to see that it was a 100-to-150 foot drop. The man fell to his death.
A third semi went into a broadside skid and crashed into the first truck. The driver of the third commercial vehicle was partially ejected.
He was initially taken to Mineral Community Hospital in Superior before being flown to Kalispell Regional Medical Center. Trooper Rosenbaum says the man appears to have serious injuries.
A fourth commercial vehicle slammed into the other semi-trucks going eastbound, but there were no injuries. A fifth semi-truck then slammed into the other vehicles. The driver of that vehicle died.
Trooper Rosenbaum told MTN News he didn't have ages, hometowns, or names of the victims as the accident remains under investigation.
The Frenchtown Rural Fire department reports that arriving crews were assisting the Superior Fire Volunteer Fire Department at the scene when a firefighter slipped on the black ice and fell over the bridge deck.
The firefighter was transported to the hospital for traumatic injuries associated with the fall. No other information on the firefighter's condition is available at this time.
All eastbound traffic on I-90 was still being detoured onto East Mullan Road in Superior before being brought back onto the freeway at the Tarkio interchange. One lane of I-90 westbound lane is now open.
Fire departments from Superior, St Regis and Frenchtown all responded to the scene as did Superior Volunteer Ambulance, Mineral County Sheriff Office, Missoula County Sheriff's Office, Montana Highway Patrol, Montana DOT, Montana Motor Carriers Division and Missoula Emergency Services.
The Montana Highway Patrol is continuing to investigate the accident. We'll have more information as it becomes available.
Information from MTN's Mark Thorsell included in this report