BILLINGS — Organizers counted about 325 people attended the 14th annual March for Life where people called to end abortion in the state and nation at the Yellowstone County Courthouse lawn in Billings Sunday.
The march was organized by Yellowstone Valley Christians for Life, a local pro-life group that regularly takes part in other pro-life demonstrations in Billings.
Normally, the march starts at St. Patrick Co-Cathedral and ends with speakers at on the Yellowstone County Courthouse lawn. To avoid gathering a large group in the cathedral and prevent COVID-19 spread, organizers opted to start and end the march on the courthouse lawn.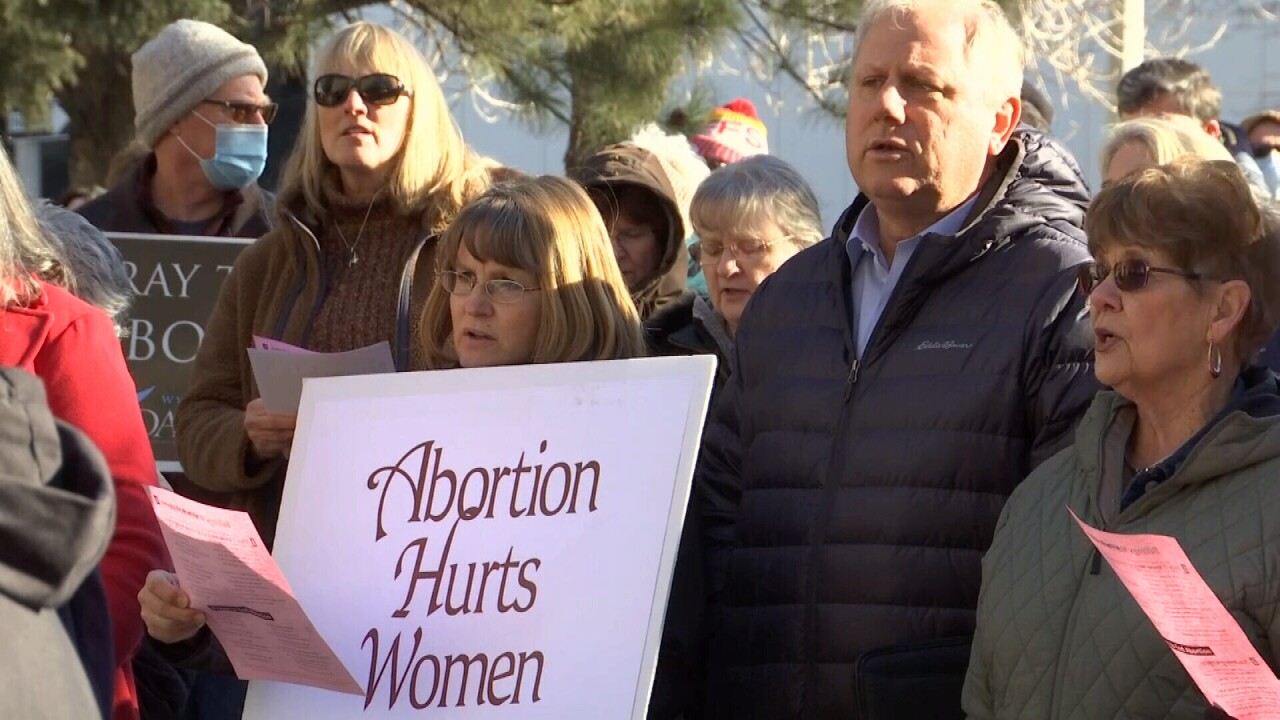 Following an introductory remarks from Amy Seymour, president of Yellowstone Valley Christians for Life and opening prayer by Bishop Michael Warfel of the Diocese of Great Falls - Billings, the group marched a two-block circle of North 27th Street from Second Avenue North to Fourth Avenue North.
The crowd heard remarks from Emily Kokot, a Rocky Mountain College student originally from Livingston. She serves as an officer for the Young Americans for Freedom club at Rocky, a Ronald Reagan-based organization that promotes individual freedom.
Kokot offered her perspective on abortion as a young woman and college student. Kokot said pro-choice ideas are marketed to women in social media and college text books. She mentioned a one-page story in her first-year human development class about a couple choosing abortion because their doctor expected the baby to have Down syndrome.
"That one little ad on Snapchat or that one little page in a text book may not seem like much, but collectively it is making a difference. It is powerful and I fear for what it is doing to my generation. I really do have hope for the future and the pro-life movement, but progress will only be made if we start marketing the beauty of life just as much as the other side does the opposite," Kokot said.
People at the march also heard from Eric Hutch, a marriage and family pastor with Harvest Church in Billings. He shared his experience of being an adopted child who later found his birth mother.
"I was unplanned and never forgotten," Hutch said.
Hutch said when his wife Shari was pregnant with their fourth son, she asked Hutch's foster mother the story of his adoption. Hutch learned via his wife that his birth mother was married with two kids in 1966 and her husband was away fighting in the Vietnam War.
Hutch's birth mother had an affair with a pilot about to be sent to Vietnam, she carried the baby to term, and in September 1967 Hutch was born. He was put up for adoption and his birth mother had the records sealed to prevent future contact.
"The clarity re-framed my perspective. She had made an egregious mistake. I was the result of that mistake and through a difficult season of pregnancy and birth, she somehow navigated nine stressful, guilt-ridden months to provide me with an opportunity of life. I was unplanned and never forgotten and longing for connection," Hutch said.
Hutch wanted to meet his birth mother. After petitioning the courts in Pittsburgh, Pennsylvania for information on his mother, he was able to meet up with her in 2006. He said he cried happy tears at their reunion.
A few years later, Hutch got a call from his birth mother. She said she was counseling a young, single mother who was thinking about abortion. She told Hutch that she shared her adoption story with that woman and said abortion had crossed her mind too.
"I sat stunned behind the wheel of my car. I responded gently, 'I am grateful, as well as my wife, my sons and countless others in my life. I know my conception, birth and relinquishment was difficult for you and I'm thankful for your courage, compassion and care to give me an opportunity for life,'" Hutch said.
Hutch said he wants others to share an opportunity at life.
"My prayer, my hope, my challenge to you during our March for Life is that we honor the sacredness of the womb giving any life, regardless of the circumstances of conception, condition of gestation, trials of birth, pain of relinquishment, the opportunity for life," Hutch said.
Finally, the crowd heard from Jeff Laszloffy, president of the Montana Family Foundation since 2003. The nonprofit foundation supports several anti-abortion bills making their way through the Montana state legislature.
"I just drove in from the capitol and I'm feeling a little bit like the angel Gabriel. I bring you good titdings and great joy. When it comes to pro-life bills and pro-life legislation, let me just say it is a new day at the Montana capitol," Laszloffy said.
Republicans have majorities in the state house and senate along with the governor's seat. Laszloffy said he is confident the pro-life bills will pass this year.
"This session, we're looking at at least six pieces of pro-life legislation, three of which have already passed in previous sessions and were subsequently vetoed," Laszloffy said.
The following bills moved out of their house committees last week and are expected to be debated in the house sometime this week:
House Bill 136, which essentially bans all abortions in Montana after 20 weeks of pregnancy. Sponsored by Rep. Lola Sheldon-Galloway, R-Great Falls.
HB171, which greatly restricts the distribution of abortion-inducing drugs. It requires the drugs to be dispensed only in-person, requires the woman seeking the drug to sign several times on a consent form a day before getting the drug, and bans distribution of the drugs on college campuses and schools in Montana. Sponsored by Rep. Sharon Greef, R-Florence.
HB140, which requires that women seeking an abortion be given the opportunity to see an ultrasound and hear the heartbeat of the fetus. Sponsored by Rep. Amy Regier, R-Kalispell.
HB167, which would place before Montana voters in November 2022 a referendum, asking them to approve a law that says any fetus "born alive," including during an abortion, is a legal person. Sponsored by Rep. Matt Regier, R-Kalispell.
Laszloffy said he's backing an effort to take away federal funding from Planned Parenthood under Title X. In Montana, Planned Parenthood receives about 9 percent of it's annual budget from the federal Title X grants.
In 2019, a federal bill that would have restricted clinics that perform or financially support abortion from receiving Title X money was introduced and died in the U.S. Senate.
RELATED: Planned Parenthood of Montana explains new federal regulations, potential loss of funding