BROADWATER COUNTY – Two years after his death, Highway 287 in Broadwater County is officially the Mason Moore Memorial Highway.
Because of House Bill 156, passed by the 2019 Montana Legislature, a sign now stands at mile marker 109 as a reminder of the man behind the badge.
Moore was remembered Friday as a father, husband, and hero, at a dedication ceremony where the sign was revealed.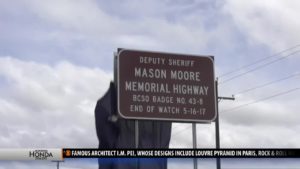 His name, badge number, and end of watch are all included on the sign.
Moore's wife Jodi said the sign is a reminder his life mattered.
"This is not where evil won," she said. "This is where Mason won."
Rep. Julie Dooling, the bill's sponsor, said she hopes the marker is a reminder of the sacrifice law enforcement make every day.
"It's a bittersweet moment," said Dooling. "We're glad it's this far, but at the same time Jodi and the kids still have a long road ahead of them."
"For the men and women in uniform, it's one of those things, I was there that day," said Broadwater County Sheriff Wynn Meehan. "For the traveling citizen, they'll stop and say, a law enforcement officer died here."
"It's a place of remembrance," Dooling told MTN News. "And we're remembering somebody who gave his life, but also we're remembering and supporting all of those police officers who are supporting us and taking care of us on their daily shift."
-Reported by Evelyn Schultz/MTN News