BUTTE – Jon Wick was just getting his business 5518 Designs off the ground in 2014 when he was diagnosed with cancer.
"That is probably by far one of the worst years, worst times, of my life and starting a business and in the midst of everything, it's a lot of stress and work and worry," said Wick.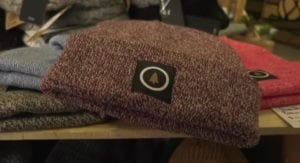 After extensive treatment and surgery, Wick is doing well running the business in Uptown Butte with his wife. And he was hit with an idea to give away stocking caps from his store to St. James HealthCare to give to cancer patients.
"It was just this wonderful kind of lightbulb moment where I'm like 'hey I remember when I was in chemotherapy and I was just cold from my injections' and I always wanted to give back and say thank you to those nurses and the staff and everybody that took care of me so well," said Wick.
While going through the chemotherapy treatment at St. James, Jon remembers having a blanket his grandmother owned to keep him warm during the treatment and he hopes the hats will provide the same comfort for people going through a very difficult situation.
"It's one of those little things that we can do to just make somebody else's experience a little bit better or more tolerable," said Wick.
It's a small comfort, but welcome – Wick gave away 40 hats to the Butte hospital and hopes patients get good use out of them.