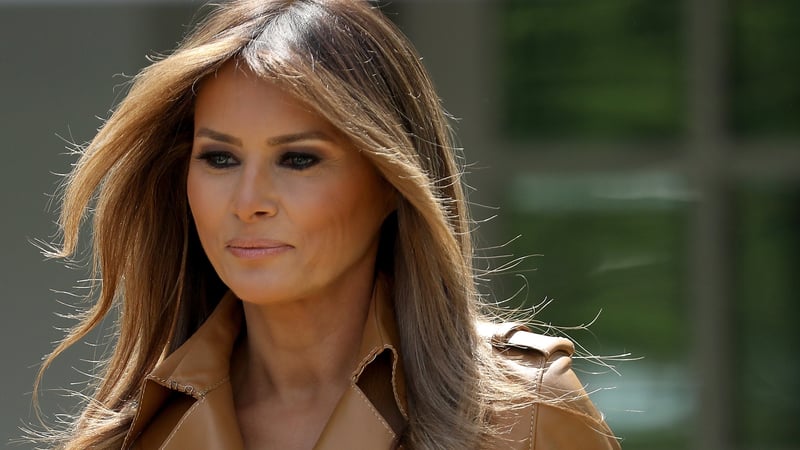 First lady Melania Trump returned to the White House Saturday morning after a five-day stay in the hospital, according to the first lady's communications director, Stephanie Grisham.
The first lady was hospitalized at Walter Reed National Military Medical Center Monday for an embolization procedure to treat a kidney condition.
Grisham said she is "resting comfortably and remains in high spirits."
"The first lady returned home to the White House this morning," Grisham said. "She is resting comfortably and remains in high spirits. Our office has received thousands of calls and emails wishing Mrs. Trump well, and we thank everyone who has taken the time to reach out."
The White House and first lady's office haven't offered many details about what kidney condition the first lady has been experiencing. But Grisham stressed in a statement to CBS News that "every patient is different," and suggested media reports questioning the length of Mrs. Trump's stay for what is generally a simple procedure are speculating.
"Every patient is different," Grisham said. "The medical professionals who have been giving opinions to the media based on one statement are uninformed. Mrs. Trump has a medical team that is comfortable with her care, which is all that matters. Her recovery and privacy are paramount and I will have no further comment beyond this. Anyone else who chooses to speak with the media will only be speculating."
The president has no events on his public schedule this weekend, or plans to travel out of town, after the first lady's return.
Mr. Trump visited her multiple times this week while she was hospitalized, and offered periodic, if detail-lacking, updates about her recovery, saying she was doing "really well." He also praised the doctors at Walter Reed for their work.
The first lady tweeted twice from the hospital this week, once to thank the medical staff and said she was "feeling great," and once to mourn the victims of the Santa Fe, Texas, school shooting Friday.
A sincere thank you to Walter Reed Medical Unit @WRBethesda & to all who have send good wishes & prayers! I am feeling great & look forward to getting back home @WhiteHouse soon.

— Melania Trump (@FLOTUS) May 16, 2018
My heart goes out to Santa Fe and all of Texas today.

— Melania Trump (@FLOTUS) May 18, 2018
The first lady has exercised a quiet presence in the White House, appearing at some White House events along with Mr. Trump, but she is rarely in the limelight. Earlier this month, Mrs. Trump announced her "Be Best" platform, encouraging civility in online discourse and urging children to comport themselves with kindness.
"There is one goal, to 'Be Best', that is to educate children about the many issues they're facing today," she said at the Rose Garden ceremony earlier this month. "I feel strongly as adults we should be best about education our children about a healthy and balanced life."
© 2018 CBS Interactive Inc. All Rights Reserved.