HELENA – A lawsuit against the Boy Scouts of America filed by six women who were raped by a Montana scout leader in the 1970s could be resolved Thursday.
The six women involved were minors, between the ages of 11 and 14, in an Explorer Scout Program in Kalispell when the abuse occurred between 1973 and 1975.
Originally filed in 2011, the civil suit claims the Boy Scouts and the organization's Montana Council knew about the risks their scout leaders posed to young girls based on reports created on other scout leaders who had been kicked out of the organization for sexually abusing children and did not warn others.
One of the nine claims listed in the suit is for fraud based on the theory the Boy Scouts deceived the six women by ensuring their scout leaders were trustworthy and of "high moral character."
The suit claims the scout leader, listed as William (Bill) Leininger, did not have a background check before he became a leader. The Boy Scouts' Montana Council did not supervise units across Montana and did not select or supervise leaders chosen, including Leininger, according to court documents.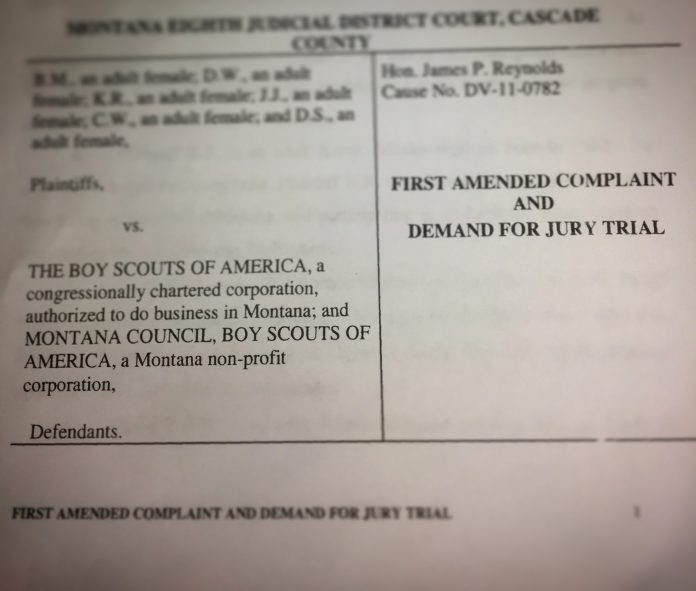 Co-ed camping trips were allowed during the time of these incidents, but the Boy Scouts required a male and a female Scout Leader to be present at all times, as well as separate sleeping arrangements.
During the camping trips in which these women say they were raped, Leininger was the only leader present.
Leininger was convicted of raping five of the six women involved in this civil suit, along with at least one other woman in 1976 in Montana. He died in 2002.
The court documents go into detail about the sexual abuse against these women. Five of the six women say they were raped after Leininger instructed them to remove their clothing during a first aid bandaging lesson during a camping trip, which resulted in sexual abuse that lasted for more than a year for some.
Another plaintiff in this case claims Leininger provided her with alcohol during a camping trip and then told her to come to his tent to "review the day's activities" and then proceeded to rape her and told her he would kill her brother if she told anyone about what happened.
Outlined in the complaint, the women say they suffered "bodily harm, debilitating and severe mental, physical and emotional injuries."
The women now live all across the country in places like Alaska, Illinois, Oregon and Montana. They are being represented by Matthew Thiel of Missoula and Gilion Dumas of Portland, Oregon.
The case is being heard in Cascade County District Court with Presiding Judge James Reynolds. On June 27, retired District Judge Jeffrey Sherlock was appointed as Special Master in the case.
All parties are scheduled for a mediation session Thursday in Portland, Oregon. A settlement could be reached at the meeting.
If a settlement is not reached, a trial date has been set for November 27 in Cascade County District Court. According to Attorney Gilion Dumas, it would be the first time a jury would hear a fraud case against the Boy Scouts of America.
Dumas told MTN Wednesday that the jury would be shown approximately 900 files the Boy Scouts created prior to 1975 on men who had history of sexual abuse as part of evidence in the suit.
"The jury will be able to see for themselves the history of abuse in the Boy Scouts of America," Dumas said. "I think when the jury sees that the Boy Scouts had a history of child molesters to gain access to kids, the Boy Scouts knew that and invited girls, it will have a powerful impact on the jury."
Each woman could be awarded up to $10 million for punitive damages stemming from these charges.